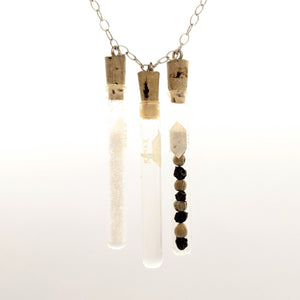 Triple salt, pepper and olive oil test tube pendant on sterling silver chain
Show your foodie leanings with this unique necklace. Glass test tubes are filled with salt, peppercorns, and olive oil. 
Permanently sealed inside a s
cientific glass test tube with a white label and cork stopper, each piece hangs from sterling silver chain.
16" long chain; 2.25" long test tubes.